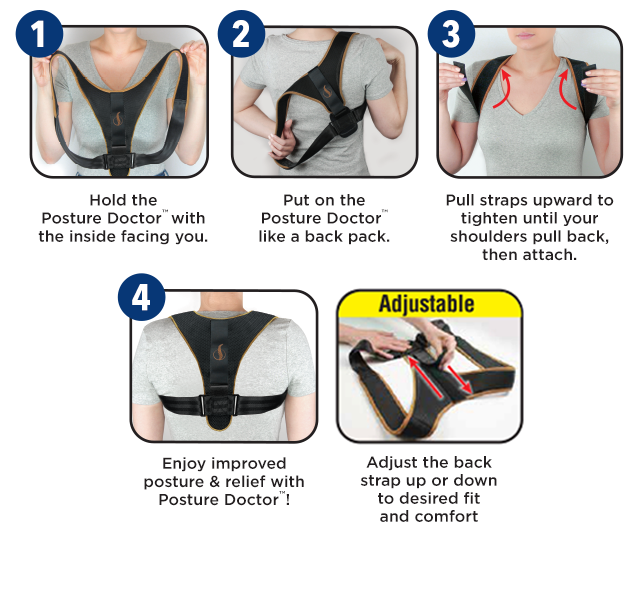 What size does it come in?
One Size Fits Most – Posture Doctor has an adjustable Height Strap from 23cm-35cm. The Shoulder Straps loosen up to 20cm.
---
Can posture doctor be worn discreetly?
Yes, Posture Doctor is designed to lay flush against your body to be discreet under your clothes.
---
Is it easy to adjust?
Posture Doctor has easily adjustable straps on the shoulders and back so it can be completely customized to fit you perfectly.
---
Can it be slept in?
It is recommended to wear Posture Doctor while awake to train your body for proper posture, it is not recommended to be used while sleeping.
---
How long should I wear it?
You can wear Posture Doctor for as long as you are comfortable in it. The recommended amount of time is 20-30 minutes a day for the 1st week and then add 20 minutes more as you feel comfortable.
---
What is the Posture Doctor made of?
It's made of neoprene, but the blend of the deluxe allows for more breathability.
---
Is black the only color it comes in?
Posture Doctor is currently available in black with copper piping around the edges.
---
Is this offer available in stores?
No, this offer is not available in stores.
---
Customer Service
Posture Doctor
21 Law Drive
Fairfield, NJ 07004

Customer service is available from 9:00am to 6:00pm Monday through Friday, EST by calling 888-406-2721.

Customer service email: PostureDoctor@rephelpdesk.com
INSTRUCTIONS:
Simply put on Posture Doctor™ and tighten the straps until you feel it gently pull back your shoulders. There may be slight discomfort until you get used to wearing it, so start wearing for 20-30 minutes a day and gradually increase duration with comfort. Tighten the straps periodically to pull your shoulders further back, until shoulders lay flat against the wall (See Fig. 1). Over time, your body should build muscle memory to maintain correct posture without the Posture Doctor™. Wear it when you feel yourself begin to slouch.
CARE & WASHING INSTRUCTIONS:
Hand wash cold with mild soap/detergent. Air dry only.

Edit INDEX-DESKTOP
Edit ORDERFORMSCRIPT